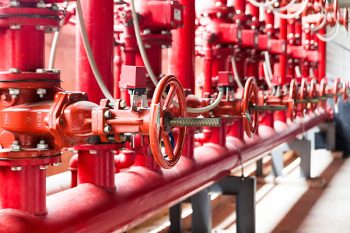 Fire Pumps
Putting a fire sprinkler system in a commercial or industrial building is a brilliant idea. These sprinkler systems have been shown to reduce casualties, limit property damage, and substantially stop the spread of potentially major fires. While the sprinkler system and use of sprinkler heads are important, the system can only work at maximum capacity with a high-quality fire pump. At Blackstone Fire Protection LLC, we'll make sure that you get some of the best fire pumps in the business so the occupants and assets in your building can remain safe.
What is a fire pump? A fire pump is the part of a fire sprinkler system that pulls water from an outside source to activate the sprinklers. The pump pushes this water through the line at high pressure to spread it over a wide area and dissipate flames before they grow. Doing this also limits the spread of smoke and toxic fumes to keep everyone inside safe.
What kind of fire pump do I need?
If you're worried about choosing the right fire pump for your property, rest easy knowing that we'll handle choosing the ideal specifications. Using only the proven quality of AC Fire Pumps, we'll do a thorough analysis of your property to find out what pump will work best. This analysis takes many factors into account such as water pressure, capacity, shaft rotation direction, and much more.
Our fire protection team is full-service
As experts in fire protection and everything it entails, we're here for you throughout the entire process. Whether you need to install a new fire pump, repair an existing one, or are just looking for routine maintenance or a check-up, call us for help. We're familiar with all types of fire pumps and sprinkler systems and have the team and equipment to help. While we hope that you never need to use your sprinkler system, when you choose us, you'll know that if disaster strikes your building will be prepared! So give us a call or contact us today to setup an appointment with our qualified team.