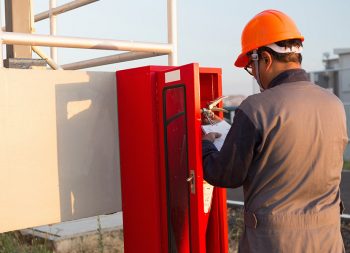 Inspection & Testing
When you have an intricate fire system at your property, you are much more likely to keep your building and the people inside of it safe. Fire alarms and fire sprinkler systems are a great way to protect equipment and sensitive materials and makes sure to limit the fire risk to everyone around. Proper precautions can reduce the chance of harm to people or property by as much as 90% in some building types. But that's only accurate as long as everything is working properly. An annual inspection is recommended, and Blackstone Fire Protection LLC is qualified to help. We do inspection & testing on local buildings and can make sure everything is up to code and working the way that it should.
We do fire system testing on our systems and others
You don't have to have us install your fire protection system in order for us to test it. But know that by choosing us for fire alarm or fire sprinkler systems you can be sure that you're getting the best quality systems around. No matter what kind of system you currently have, call us to come by and take a look. It's important that each and every part of the system is working properly. We check for many things during the process, including:
All valves and connection points
Testing and measuring water flow
Checking electrical equipment and fuses
Testing control panels and smoke detectors
Checking and examining the fire pump
And much more!
---
What about the fire alarm? Don't try this one on your own! We know the proper procedure to inform the local fire department that we're running a test so they don't come rushing to your door!
Choose us for fire protection testing
When you call us for inspection & testing, we make sure that we do the job thoroughly. But we also want to make sure that your property is protected and don't interrupt your operating hours. That's why we work on your schedule. Give us a timeframe that works for you and we'll set aside enough time to finish the process. Call or contact us today for your inspection and get peace of mind knowing everything's working right!