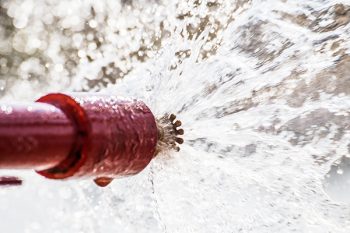 Fire Sprinklers
A proper fire system is an important part of any commercial building. Depending on the specific building and its floor plan layout, you may also be required through the fire code to have a manually-operated fire alarm system. While these are helpful in cases of emergency, what about putting out the fire itself? And what about if no one is around to pull the alarm? Especially if you have sensitive materials or expensive equipment around, you may want to consider adding fire sprinklers with an auto-detection system.  This relatively inexpensive addition could end up saving you thousands of dollars or even more! If you're thinking of putting in fire sprinklers, call Blackstone Fire Protection LLC. We'll handle everything and make quick work of the process.
What if the sprinkler goes off on its own?
While possible, the chance of a fire sprinkler going off on its own is extremely unlikely. The odds of an accidental discharge are approximately 1 in 16 million. This means that you have a better chance of being struck by lightning twice in your lifetime than having your fire sprinkler accidentally going off! 
What are some advantages of a fire sprinkler system?
A modern fire sprinkler system has several advantages and is a great way to protect any building. Some ways that they are advantageous include:
Fire sprinklers reduce the chance of dying in a fire by up to 90% depending on the building type.
Worried about burnt food setting them off? Don't be. Smoke won't set off a modern fire sprinkler.
Along with putting out fires, fire sprinklers reduce the spread of toxic fumes and smoke as well.
We do both fire sprinkler installation and maintenance
As a full-service fire protection company, we want to make sure that you're safe. That means we're here for you long after the initial installation. Think there might be a problem in a system we put in or one that already exists in your building? Simply give us a call and or contact us we'll come by and take a look.
---
Choose us for all your fire sprinkler needs
No one around can match our combination of service, efficiency, and value!